Member Center

Product Category

Home > <!-daohang->
1 .What kind of service model can Ohyeah provide?
We are a professional sexy lingerie supplier, with 1000+ styles,over 1,000,000 pcs +spot goods, 14 years of export experience, mainly provide 4 kinds of services:
1
>
. No brand spot wholesale:
we provide spot products without brand information
2
>
. ODM service:
we provide styles, products show customer's brand
3
>
. Ohyeah brand agent:
wanted city exclusive agency model
4>. OEM customization service: products are produced according to the customer's style
2 .What is the product brand?
Our products will display three types of brands according to the service mode customers need.
Customers can choose the type they need when placing an order:
1>. No Brand: washing label,paper tag and package bag without any brand informations,no extra cost.
2>. Ohyeah Brand: paper tags display "Ohyeah" brand information,no extra cost.
3>. Custom's Brand: washing label,paper tag and package bag all display custom's own brand information,addtional ODM service fee is required.
3 .What is the minimum order q'ty?
1>.No Brand Order: washing label,paper tag and package bag without any brand informations,the minimum order is US $100.
Add extra 50% handling fee for order less than US$50; Add extra 20% handling fee for order less than US$100. (Not include delivery cost ,tax and VAT)

2>.ODM Order: washing label,paper tag and package bag all display custom own brand information,the minimum order quantity is 500 pieces goods per order,can mix styles,colours and sizes.
3>.OEM Order: Babydoll/Costume/Bodystocking/Corset: 500pcs/color,support mixed sizes; Panty/Garter Panty: 2000pcs/color,support mixed sizes.

1>.At first, you can place the order from our website on line, getting your order number.
(Of course, you can pay directly online by paypal.)
2>.Next, we will check stock and send the invoice include the shipping cost to you within 24 hours.
3>.Please pay soon and tell us the information .So that we can send the parcel in time,
and tell you the tracking number for check it online.
5 .How to place the order online?
Registered customers can directly enter Email or user name + password to log in our website
New customers can register by following the instructions, or you can also directly shopping goods on the website without registeration
2>.Shopping goods
Click on the "shopping cart" where you want to order, you can order repeatedly, modify the purchase quantity, and settle accounts together
3>.Select the mode of transportation and payment terms
Fill in the accurate receiver address information
The system will automatically recommend several kinds of transportation modes as well as the corresponding freight to choose from.
The system will automatically recommend several payment terms to choose from
If you are not satisfied with the recommended transport mode or payment term, please submit the order and wait for our service staff to contact you.
4>.Submit the order
Register customers: Submit the order, and get the order number, you can check the order details in Member Center
New customers: Submit the order and get the order number as visitor member, your Email will become an Username for your future login, the initial password is: 123456 .Then you can log in as member state to check your order details in Member Center.
5>.Paypal payment
The System can support online payment by Paypal, which is efficient and safe.

You can also pay after our service staff contact you.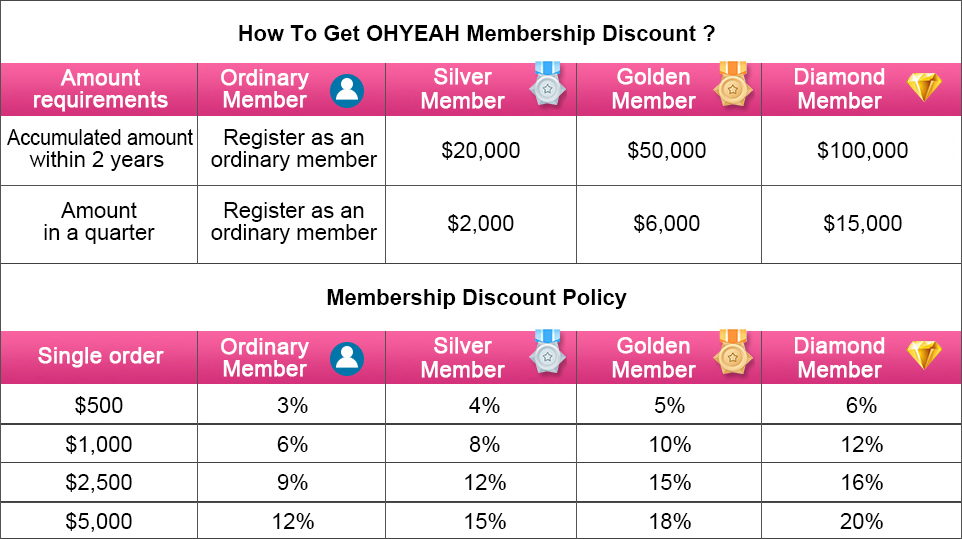 Note:
1.Single mixed order amount over US$10000 or Single product quantity over 100pcs/style/color.Pls get in touch with our business manager Mr jon directly:[email protected]
2.Order less than US$50 add 50% handling fee ; Order less than US$100 add 20% handling fee
(Above order amount not include delivery cost,tax and VAT).
1.About the price
You'll find the price of the product on the product's own page, this is the ex-factory price, not include the local taxes and import duties,Buyer or percipient is responsible for all such taxes and duties.
2.How to pay the order?
We can accept:

1>. PayPal (buyer pay paypal handle fee) Paypal account: [email protected]
2>. Bank transfer(T/T)
Our bank account as follow:
1.Bank Name:China Merchants Bank Xiamen Branch
2.SWIFT:CMBCCNBS471
3.Bank Address:NO.18 LINGSHIGUAN ROAD, SIMING DISTRICT, XIAMEN , FUJIAN, CHINA.
4.PAYEE:Ohyeah Trade (Xiamen) Co.,Ltd.
5.PAYEE'S A/C NO:592903357732802
6.PAYEE address:Room 412, No. 78 Huli Avenue, Huli District, Xiamen City
If you need other way to pay, pls contact us.
Usually adopt door-to-door international express delivery, you can also choose air or sea transportation if the quantity is large.
1. How long will it take to ship the products ?
It takes 5-10 business days by Fedex/DHL/UPS/TNT/Aramex, depending on your location.
2. Could we have any discount of postage ?
Yes , of course! We keep long-term cooperation with DHL/Fedex/UPS/TNT/Aramex and other international express companies,and enjoy preferential freight prices.
3. Could you tell me the shipping cost before order?
Yes , of course!
1>. The freight depends on different mode of transportation, international districts, cargo weight, whether fluffy volume or not, and other factors.
2>. After confirm the address, the system will automatically recommend several modes of transportation and the corresponding freight for your choice.
3>. If you are not satisfied with the transportation mode or freight, please contact our service staff. We will try our best to apply for the most preferential freight.
4. About the delivery time?
After you place an order, we will check your order first and then send the invoice to you within 24 hours. Shipment will be arranged within 1-3 working days after we receive the full payment.
5. About the tracking number?
After your package is sent, we will provide you a tracking number, so you check where is your package.
6. About the risk of customs detension?
1>.Our price does not include import duties and other fees of countries;
2>.International express companies handle the export customs declaration as agents, the goods can usually be exported smoothly.Due to different policies of different countries, for example, if the goods encounter a customs detention, the customers need to deliver the relevant taxes by themselves;
3>.We will often do related work to help customers smooth customs clearance, such as export by way of "free sample "or "free gift";
4>.We can also make low-price invoice to help declare export according to customer's requirements.
Return & Exchange Policy
Ohyeah company accept renew the products which having problem in quality:
1. Please feed back the information about quality problems within 3-7 days after receipt of the goods;
2. Please provide real photos of products with quality problems;
3. For replacement, usually we will send new products along with your next order;
4. If you do not need replacement, we can negotiate with each other according to the actual situations, and the discount amount will be returned to you;
5. Ohyeah company will decide whether to return defective goods depending on the particular facts, the freight must be informed by the buyer before returning;
If you choose to refund, we will respond to your refund on the same day, and the refund will be returned to your account within 1 to 3 working days. If it is during holidays, the arrival time may be delayed.
6. The following situations do not belong to scope of return or exchange service:
1>.Products have been worn, used or washed;
2>.Products with thread residue, fade after washing, and color difference due to different production batch;
3>.More than 7 days after receive the goods;
4>.Refuse to provide photos of defective goods or the photos are completely unable to identify;

For the above situations that beyond scope of return or exchange service, Ohyeah company will give more discounts or preferential policies in future orders according to the circumstances.
1. What specific projects are available for OHYEAH agents?
1>.Legally sell "ohyeah" branded products and various in-stock products such as lingerie, underwear, and bodystockings.
2>.Legally enjoy OHYEAH company's ODM branding services for various product styles provided.
3>.Legally use copyrighted product images and videos provided by OHYEAH company.
2. What benefits can OHYEAH agents bring to me? Why should I join OHYEAH as an agent?
1>.Legal Compliance: Authorized to legally and free cost to use OHYEAH's images, videos, product copyrights, and the "ohyeah" brand.
2>.Higher Profits: Pricing with a fixed 20% discount and an annual rebate of 3%, negotiable for specific customers.
3>.More Support: Various sales support, including free samples, certificate, plaque and gifts etc..
4>.Long-Term Stability: OHYEAH has been in business for 14 years, and agent agreements are annual, providing reliable and secure support.
3. What are the requirements for joining OHYEAH as an agent?
1>.Having multiple physical chain stores, or having numerous distributors with wholesale capabilities, or possessing mature online sales channels.
2>.Existing loyal customers with a history of reaching Golden Member status (accumulated sales of $50,000 over two years or quarterly sales exceeding $6,000).
3>.No major fraudulent or actions harmful to OHYEAH's interests in past collaborations.

4. Are there any risks in becoming an OHYEAH agent?
1>.There are no risks, customers can exit the agency unconditionally, with the full deposit refunded, or deducted in the following orders with the customer's agreement.

5. What is the difference between OHYEAH website members and OHYEAH agents?
1>.Agent discounts are fixed, while website member discounts vary based on membership level and per order volume.
2>. Agent discounts are higher than website members, typically a fixed 20%, and even higher for specific customers.
3>. Agents enjoy an annual rebate, usually 3% when reaching $50,000 in annual sales, while website members do not.

6. Can the deposit be reduced, or can it be waived?
1>.Yes, the deposit can be reduced or waived, plz check the agent's recruitment policy for details.
Typically, the deposit is $5,000, but it can be waived if the initial order amount reaches $10,000.
7. How are agent order goals established?
1>.Agent order goals are measured based on historical performance in collaboration with OHYEAH and are mutually negotiated to reach a final agreement.
8. Do I need to set quarterly goals if annual goals are already set?
1>.Yes, quarterly goals are a reasonable breakdown of annual goals, ensuring that both parties prioritize and engage in the cooperation process.
It helps OHYEAH provide timely assistance when agents face difficulties.

9. Will the deposit be forfeited if the agent fails to meet the performance goals?
1>.No, the deposit will not be deducted, regardless of whether quarterly or annual goals are met.
10. Under what circumstances would the deposit be deducted?
1>.Agents are not allowed to provide authorized images or videos to others without OHYEAH's permission.
2>.When using OHYEAH's images or videos on mainstream e-commerce platforms like Amazon, the selling price must not be lower than the minimum prices set by OHYEAH.
If the pictures or videos are taken by the agent, they are not subject to OHYEAH company's price restrictions.
3>. Exclusive protection markets should not be sold (typically, OHYEAH company or ohyeah brand does not establish exclusive regions).

11.How is the agent's territory divided?
1>.The agent's offline physical stores are used to define the agent's territory. If an agent opens stores in multiple cities, all of them can be included as the agent's territory.
2>.The areas covered by the agents' online network sales are not added as the agent territories.
3>.If the agent has no physical stores and only sells online, the agent's territory is their city in this country.
12. I have an online network sales channel, can I sell to other areas?
1>.Yes, you can. The agent's online sales are not restricted by agent territories.
13. The "Ohyeah" brand is not well-known yet. Is there any support?
1>.Provides officially authorized agent certificate and plaque of OHYEAH company.
2>.Offers some new product samples to help agents test the market.
3>.Periodically launches various promotions and marketing activities, providing more discounts and benefits to agents and consumers.
4>.Provides various auxiliary sales gifts such as shopping bags, gift bags, phone stands, phone cases, etc., to assist in marketing and promotion.

14. How long is the agent agreement valid? Can I sign a long-term agreement?
1>.Typically, it's one-year validity, but you can sign a longer contract. Please communicate with our sales representatives, and the signed contract will prevail.
15. Can I terminate the agent partnership before the agent agreement ends?
1>.Yes, you can. Following the principle of mutual consent, you can terminate the agreement early, and the deposit will be refunded (if applicable).
16. Can the freight and ODM accessory fees I pay be included in the annual rebate?
1>.Yes, OHYEAH includes the payments for goods, freight, ODM accessory fees, and customized order payments in the annual rebate calculation.

17. How is the annual rebate determined, and can it be increased?
1>.Typically, an accumulated receipt of $50,000 or more during the year entitles you to a 3% rebate.
In special circumstances, you can apply to our sales representatives for negotiation and reach an agreement that satisfies both parties, with the signed contract as the final reference.

18. Can I enjoy the rebate if I meet the annual agent volume before the end of the year of the agreement?
1>.No, rebates are settled at the end of the year of the agreement.
19. How is the rebate payment made if the conditions are met?
1>.The rebate is only used to offset goods payments, freight, or other collaboration costs and is not paid in cash.
20. Can I become the exclusive agent in my region?
1>.OHYEAH typically does not establish exclusive regional agents.
However, if there are special circumstances, you can apply to our sales representatives, and we can negotiate and communicate to reach an agreement.

21. What is the pricing discount for agents, and can it be increased?
1>.Typically, agents can get a 20% discount on the wholesale original prices at the official website "www.ohyeahlady.com".
Suppose there are special reasons for getting a higher discount than 20% in the past cooperation. In that case, you can apply to our sales representatives, and we can negotiate to reach an agreement, with the signed contract as the final reference.
22. Can I receive goods before making the full payment as an agent?
1>.No, typically, each batch of orders requires an advance payment, with the remaining balance to be paid before the goods are shipped.
However, for specific areas, such as Europe, the United States, and Canada etc, we can recommend the financing service of the American company named "40seas".
If you pass their qualification, you can receive financing with a 30-90 day grace period, with an additional service fee of 2.3%-4.5% paid by the agent.
23. Can unsold products be returned or exchanged?
1>.No, it is not possible. We recommend that agents manage risk by adopting a strategy of ordering in small quantities but frequently.
24. Can I use my own freight forwarder for shipping?

1>.
Yes, you can.
25. I prefer a shipping and tax-inclusive method. How is this reflected as agents?
1>.Yes, agents can choose a shipping and tax-inclusive method, and the performance in this model also counts towards the annual rebate.
26. Can agents receive some new products for market testing for free?
1>.Yes, you can request this from our sales representatives, and if approved, a small percentage of new products will be sent along with your order, typically not exceeding 0.5% per order.
27. What is the after-sales service for defective products?
1>.We provide a service to replace defective products with new ones in the next order or deduct the corresponding amount from the payment.
28. I am a wholesaler, can I share OHYEAH's images or videos with my downstream partners?
1>.Yes, you can, but you need to apply for permission from OHYEAH in advance.
29. When can I sign up to become an OHYEAH agent?
1>.OHYEAH regularly conducts global recruitment events and invites qualified customers to participate. Upcoming recruitment events are scheduled for November 1st to 30th, 2023, with various promotional policies. You are welcome to join!
30. Can new customers join OHYEAH as agents?
1>.Typically, OHYEAH only opens agent opportunities to existing loyal customers who meet the agent requirements and conditions.